May 7, 2007
Ugly stuff...
Excuse me for ranting a bit, you've already heard me on this, but it's therapeutic to vent ones feelings...
BAGHDAD, Iraq (CNN) -- American soldiers discovered a girls school being built north of Baghdad had become an explosives-rigged "death trap," the U.S. military said Thursday.

The plot at the Huda Girls' school in Tarmiya was a "sophisticated and premeditated attempt to inflict massive casualties on our most innocent victims," military spokesman Maj. Gen. William Caldwell said.

The military suspects the plot was the work of al Qaeda, because of its nature and sophistication, Caldwell said in an interview with CNN's Wolf Blitzer.

The plot was uncovered Saturday, when troopers in the Salaheddin province found detonating wire across the street from the school. They picked up the wire and followed its trail, which led to the school. Once inside, they found an explosive-filled propane tank buried beneath the floor. There were artillery shells built into the ceiling and floor, and another propane tank was found, the military said.

The wire was concealed with mortar and concrete, and the propane tanks had been covered with brick and hidden underneath the floor, according to a military statement. Soldiers were able to clear the building.

"It was truly just an incredibly ugly, dirty kind of vicious killing that would have gone on here," Caldwell said...
Actually, it's late, I'm drinking some excellent scotch, and I just deleted a buncha venomous clever rants I had written this morning. Do they do any good? Naah. Can you fill in the blanks from your imagination? Of course you can! RJ readers are smart.
But spreading the truth around is a good thing, or so I surmise. Here's a healthy dose of it. Those who have ears, will hear. And oh my brothers and sisters, THINK about this stuff. A school for little girls. All in their little uniforms, all to be shredded like hamburger. And think about the state of mind of people who can IGNORE this. Who want "business as usual." Who want the illusion of "peace," and will sacrifice those children...
Here are some old Random Jottings images....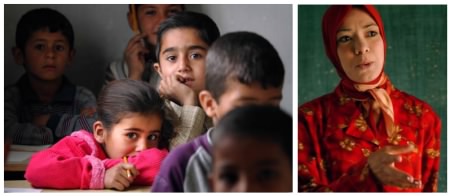 Posted by John Weidner at May 7, 2007 11:05 PM